Tech Tales of Diversity and Inclusion: Who are you hiring?
Talent is hard to find. When staffing, there are qualifications you search for to fit your company's needs.
This is my first tech job. As an Asian American woman, applying for jobs is a struggle. Although I know I am more than qualified and driven enough to learn, I continuously second-guess myself. Is my name too ethnic? Will being a woman send my application to the reject pile? Are there any biases towards Asians in this industry? I look for companies who have strong Diversity and Inclusion missions — that will see my identity as a strength. Unconscious biases dramatically affect our work lives. We are good enough, but will our identity, something we were born into, affect our chances?
These concerns stop a lot of qualified individuals from applying. Employers should always think about diversity and inclusion. Diversity and Inclusion (D&I) is an essential aspect of successful businesses as it fosters positive impacts on your business productivity, brand, employee morale, and success. What is diversity? Diversity is abroad range of race, age, ethnicity, gender, sexual orientation, and ability. Due to the pandemic, there is a shortage of workers. Hiring has become more difficult but crucial. Who are you hiring?
Addressing the uncomfortable
The Tech Industry is infamous for its lack of diversity, representation, and inclusion.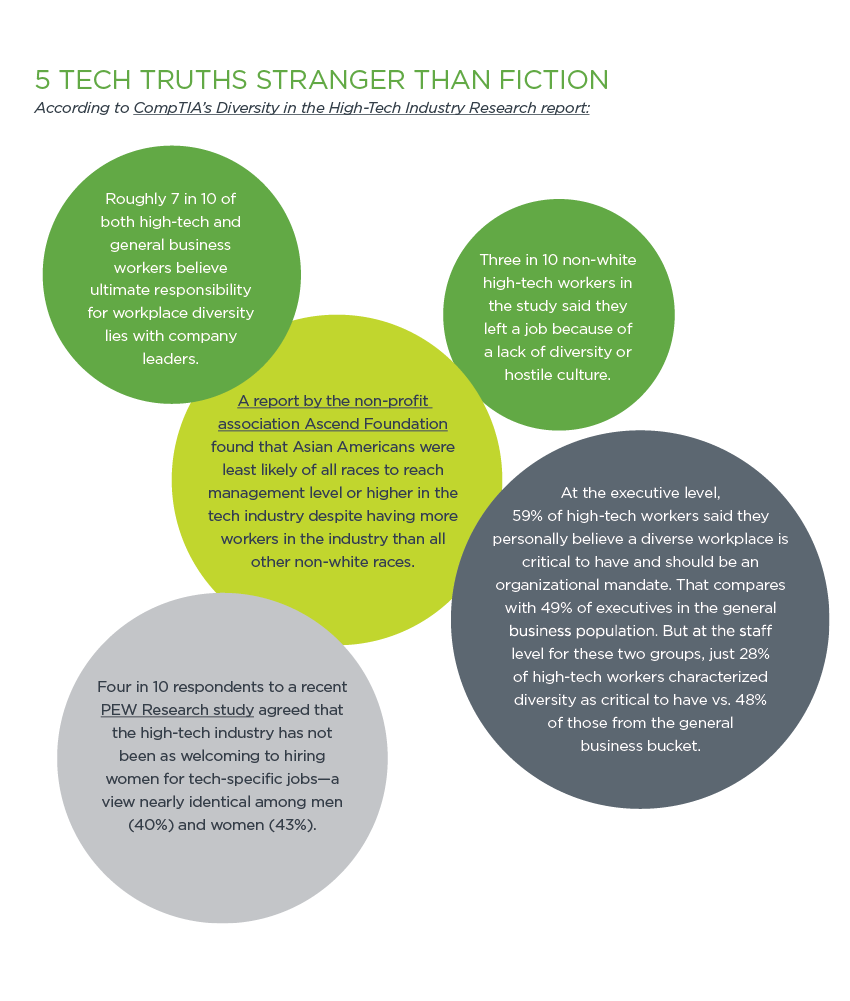 Although uncomfortable to admit, we have unconscious biases. Unless we address these biases, opportunities are missed for you, your business, and potential employees.
The first steps
The first step to implementing an effective, efficient D&I strategy is to reflect on your company and industry's current demographic, staffing needs, and potential candidate pools. Diverse recruitment requires technology solution providers to examine hiring practices and make efforts to find new talent. Recruit efficiently and clarify where diversity deficits exist.
Retention
You can hire a diverse workforce, but can you keep them at your company? Continue investing in diversity and inclusion with these suggestions:
Onboarding resources based on hiring needs
Professional development plans for all employees
Acquiring interns who identify with the targeted demographic
Required training on bias
Establishing open workplace culture
As a business grows, the environment must continuously be inclusive.
Remote workplace wellness
Remote work creates issues with employee morale. Designing well-being at the individual, team and organizational levels will build a sustainable future where employees feel and perform their best.
Who and why you hire someone is reflective of your company's brand and mission. Having outside expertise, not just your own eyes, will ensure an effective D&I strategy. Access Tech makes D&I part of the company culture and policy. This benefits us because it allows for creativity and innovation to improve our company. With more perspective comes better understanding. We value D&I as a crucial component to what makes Access Tech successful, contact us to share your best practices and to talk about ours. We have been helping business connect Business Strategy with IT Solutions for over ten years.
For further reading, here is more information on D&I strategy and implementation.
For more insights on this topic: